1 part Kahlua, 
1 part Vodka
, 1 part Mylk®
, Ice cubes. Fill your glass with ice cubes. Add Kahlúa and Vodka. Finish up with Rebel Kitchen Mylk®.
---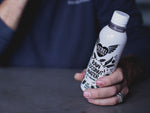 In our recently published Purpose Manifesto we detailed our goals for the next 5 years. We're radically honest Rebels who recognise it's time the current cyclical consumer industry has a major shakeup. That's why we've committed to ensuring that we only use post-consumer recycled plastic rest (rPET), compostable or equally circular options by 2025.
---
Rebel Kitchen chose to become a Certified B Corp so that we could stand up and be proudly measured against these standards for our social and environmental performance. Transparency is a huge part of what it means to be a B Corp so we want to share our assessment results with you in this spirit!