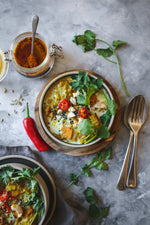 Ingredients
Spices
1 tbsp turmeric
1 tsp fennel seeds
1/2 tsp paprika
1 tbsp cumin
1 tsp garam masala
1/2 tsp ground coriander
Base

1 tbsp coconut oil
1 onion
1 red chilli
3 cloves garlic
1 cup lentils
2 sweet potatoes
5l stock
1/2 cup

Mylk®

(Lucy used Whole for its thick creaminess)
1 tbsp peanut butter
Method
Add all spices (apart from the garam masala) to a warm pan and heat for around 1 minute, then add a tbsp coconut oil and the chopped onion and chilli.
Chop the sweet potatoes into 3cm cubes then add to the pan for around 5 minutes.
Add the minced cloves of garlic and cook for around a minute (careful not to burn).
Add the lentils to the pan and cover in the 2l of stock then add the garam masala, peanut butter and leave to simmer for around 20 minutes
Once the lentils are cooked, give a taste test and season with salt and pepper.
Add Rebel Kitchen Dairy Free Organic Mylk® (Lucy chose Whole for its thick, creaminess) and swirl around.
Serve up and top with another splash of Mylk®, along with freshly chopped chilli and coriander.