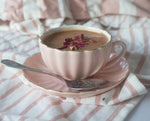 "Hot chocolate is one of those drinks that totally takes me back to my childhood. My mum used to make them for us in the winter, and there's just nothing like a cosy chocolatey cuppa to make me feel all happy and relaxed on a chilly evening. Since those days I'm slightly embarrassed to say I had a total hot chocolate regression…in my senior school I used to love the 'hot chocolate' available from the school vending machine, which I'm sure was just a combination of sugar, powdered milk, water and a hint of some very refined cocoa. At university I used hot chocolate powders that just need mixing with water (what was I thinking! Gross!) and when I started in the working world I convinced myself that I 'needed' coffee (three times a day) so out went the hot chocs and in came the sugar free vanilla skinny lattes.
But guys, I'm back. I've been full circle. I've been to the dark side, and it doesn't taste so good. Not to mention all the artificial sweeteners and cow's milk that my tummy didn't love so much.
I apologised to my body and asked it if there was anything I can do to make amends. My body said 'make me a real hot chocolate please', so I did. I've discovered Rebel Kitchen's amazing coconut 'Mylk' which is honestly a total game changer, so if you can get your hands on it I totally recommend it!" 
1 cup, Rebel Kitchen Whole Mylk®,
 2 tbsp cacao powder,
 1 tbsp maple syrup,
 1 tbsp cashew butter
To make this, pop the ingredients in a blender and blend for about a minute until smooth and chocolatey! Heat the mixture in a saucepan on a medium heat, stirring occasionally, until it reaches your desired drinking temperature. Best enjoyed with a dollop of coconut cream and a side of chocolate for dunking!