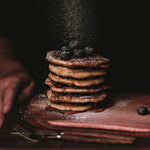 Ingredients
150g plain flour* (see our note below)

1 tsp baking powder

A pinch of sea salt

2 tsp vanilla extract or seeds from ½ vanilla pod

1 tsp Tumeric powder

Ground seeds from 2 cardamom pods (optional)

Coconut oil, for cooking
*Flour: You can pretty much use any kind of flour – buckwheat, gluten-free, wholemeal, spelt, rye… whatever you prefer. If you use a wholegrain flour, lower the amount to 125g.
Method
Sift the flour into a large bowl. Mix in the baking powder and salt.
Add the Mylk® and vanilla. Whisk everything together to make a batter the consistency of double cream. Mix 1-2 tbsp water in if the batter is too thick.
Set a large frying pan over high heat. Add a gloss of oil to the pan, just enough to coat it.
Add of the 2 tbsp batter to the pan - 2 tbsp is 1 pancake and you should be able to cook 3-4 pancakes at a time. Cook for 2-3 mins till the top of the pancake starts to look set and lots of bubbles have formed. Flip them over with a spatula or palette knife.
Cook for another 2-3 mins till golden brown and set underneath. Lift out of the pan and pop on a plate. Repeat till the batter is used up, adding more oil to the pan as you need it. You can keep the pancakes warm in a low oven while you cook them all. Serve them in a stack with your favourite pancake topping.